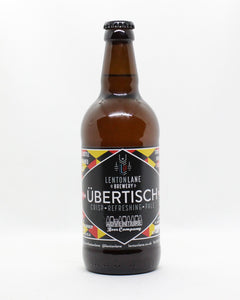 Crisp, Refreshing Pale.
Brewed initially for the Robin Hood Beer Festival. Originally planned as a table beer, we went a bit OTT, hence the name (Above/over table)! Pale malts, oats, rice and German hops, Hallertau Blanc and Mandarina Bavaria, combine to create a crisp, lager like ale that can quench any thirst.
Bottle conditioned, Vegan Friendly.
4.7% abv 500ml bottle